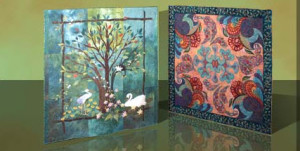 GENERAL SHOW INFORMATION
DATES: JULY 20-23, 2017

HOURS OF OPERATION: THURSDAY THROUGH SATURDAY, 10AM TO 6PM; SUNDAY 10AM TO 4PM.
Hershey Lodge and Convention Center
ALL CLASSES AND LECTURES for 2017 will be on the website in late February. Registration will open in March (TBD). This should give you time to read over all the classes and lectures. We have some new teachers this year and quite a few new longarm teachers. REGISTRATION IS OPEN UNTIL JULY 5. AFTER THIS DATE, YOU MAY REGISTER AT THE SHOW. THE LAST DATE TO CANCEL IS JUNE 10.
Special Exhibits
Finalists from the annual contest
Retrospect of Margaret Solomon Gunn's award-winning quilts
Great line-up of nationally and internationally renowned instructors.
Registration opens on March 26 at noon. Come join our family of quilters!
ADMISSION INFORMATION
If you want to come to the show and see the exhibits and shop in our Merchants Mall, but do not want to take classes or lectures, you do not have to register ahead of time. Our admissions desk is open at 9am each morning, a full hour before the show opens at 10am. You can buy a one-day pass for $10 or a multi-day pass for $15. Children 6-12 are $5 for a one-day pass and $10 for a multi-day pass. If you have bought a one-day pass and want to return, simply go to admissions with your band still in tact on your wrist and pay the difference of $5. The admissions staff will cut off your old band and secure the multi-day band on your wrist – and you're good to go!
QUILT CONTEST – HOW TO ENTER
Complete entry form


Submit two 35mm color slides or digital pictures for each entry: one of the whole quilt and one close-up. (Digital pictures are now permitted as long as they haven't been retouched in any way. Save them as a jpeg and put them on a CD.) You may use one CD for multiple entries.


Label slides/CD with entrant's name, and quilt title  (and an arrow to indicate the top of the slide).


Check/MO to Quilt Odyssey for $15 for each entry. You may use one check for multiple entries.



Send slides/CD, completed entry form, registration fee(s), and a self-addressed stamped envelope large enough to hold your slides or CDs.  We must receive your entry materials postmarked by April 30, 2016.
Click here to fill out and print a Contest Entry Form.