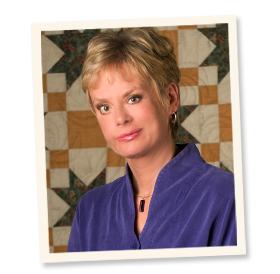 ESCAPE. CREATE. CELEBRATE.
Be part of the ultimate quilting adventure in Madison, one of the nation's most popular cities and a great place to enjoy the beginnings of autumn in the Midwest. Located among beautiful lakes and parks, the city offers unparalleled shopping, dining and recreational opportunities, and the perfect getaway for quilting enthusiasts — Quilt Expo 2013, Sept. 5, 6, and 7.
Whether a seasoned quilter, a novice or just curious to learn more about quilting, all quilting buffs will thoroughly enjoy this opportunity to learn, laugh and draw inspiration from quilting masters who will share their ideas and expertise.
Presented by Wisconsin Public Television (WPT), producer of three highly acclaimed national quilt programs and Nancy Zieman Productions™, this new-age quilting forum is designed to capture and revitalize the creative quilting spirit.
Read about the 2013 Show Highlights
Special Features:
– Public television quilting personality Nancy Zieman, Host of Sewing with Nancy®
– Public television on-air event promotion
– 85,000 square foot vendor mall
– 10-category juried and judged quilt contest and exhibit
– 54 stage presentations on two stages
– 126 informational lectures
– 30 sit & sew workshops
– 12 hands-on workshops
– Quilt appraisals by an AQS certified appraiser
– Raffle prize drawing
– Community service project
– Live radio broadcast
Nancy Zieman Productions
Nancy Zieman is a businesswoman, author, pattern designer, home economist and national sewing authority. She also is the host and executive producer of public television's longest-airing sewing program, Sewing With Nancy®. The series, co-produced and presented by WPT, is broadcast on public television stations across the United States and Canada. In each program, Zieman focuses on giving viewers step-by-step instructions for the latest ideas and techniques in sewing, quilting and decorating.
Wisconsin Public Television
Wisconsin Public Television, co-producer and presenter of Sewing With Nancy®, has produced three highly acclaimed quilt programs for national public television broadcast. America Quilts shows the beauty and inspiration of America's quilts including the stirring stories from those working to preserve the art and history of American Quilts. A Century of Quilts: America in Cloth celebrates the art of quilting by featuring selections from the best 100 American quilts of the 20th century, the stories behind their creation and the quilters as they work. The Art of Quilting is a journey of color and inspiration, a visual feast of imagination and expression with highlights from Quilt National, Art Quilts Philadelphia and profiles of the Chicago School of Fusing members.
QUILT EXHIBIT
Quilt Contest Exhibit
Enjoy the juried and judged Quilt Contest exhibit. View award-winning quilts made by local, regional and national quilters.
Special Quilt Exhibit
Stroll through this beautiful exhibit of quilts on loan from groups throughout the country. Entrance to all quilt exhibits is included in admission.
Thank you to the following volunteer groups for their time and support of Quilt Expo: Madison Modern Quilt Guild, Oconomowoc Quilter's Guild, Oscar Mayer READI
STAGE PRESENTATIONS
Join us in one of two stage presentation areas for a 30-45 minute demonstration. Learn how to use the latest tools and quilting notions. Stage presentations take place in the vendor mall and are included in admission.