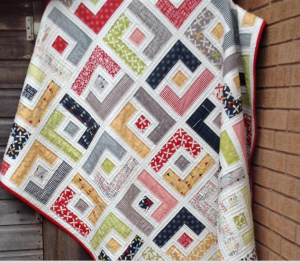 One of the hottest trends in quilting right now is using pre-cuts, like Jelly Rolls, to give a quick start to making a quilt. For those of you unfamiliar, a Jelly Roll is a roll of fabric that has been cut into strips. The fabrics are coordinating, usually cut from one line of fabric. The strips are typically 2.5 inches wide. Moda calls theirs jelly rolls. Other fabric companies are offering the same item, but with different names and dimensions. For instance, RJR has a roll of 1.5 inch precuts they call Honey Buns.
I haven't made a jelly roll quilt, but I am seeing patterns for them everywhere. I want to try one and see if it's as easy as everyone says it is. My quilting friends have all told me they love starting a quilt with a jelly roll. I thought I would share a few patterns that I'm considering in case you're looking for some good patterns too.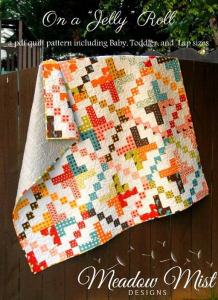 Jelly Roll Quilt Pattern Marcie's Maze
Royal Squares (This one is FREE!)
Gypsy Quilter Jelly Jambalaya – A 'Jelly Roll' Log Cabin Pattern
Strip Joints Quilt Pattern, Jelly Roll 
Full discloser: These links will take you to the pages where you can order the pattern. I do receive a small commission if you purchase.
Sometimes I have fabrics and then decide which pattern to use. But this time I am choosing the pattern before I choose the fabrics!
Happy Quilting!