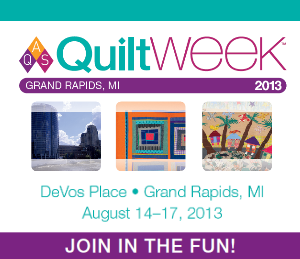 If you've been thinking of submitting a quilt in the Grand Rapids AQS Show, now is the time to do so! The folks at AQS were helpful last year with people who had never submitted before. They wanted quilters to know it was not a difficult process.  Now is your time to shine!
Submit an entry to the upcoming AQS QuiltWeek™ – Grand Rapids contest.
August 14 – 17, 2013
Contestants will vie for a piece of more than $44,000 in cash!
Entries are eligible to win one of twenty prizes, with Best of Show taking home $10,000 in cash!
View the full list of prizes and details here
Entries for the AQS QuiltWeek – Grand Rapids Contest are due by April 29, 2013.