What is 20 feet long, made of fabric, and worth $200,000? The answer is, Ann Loveless's award winning quilt "Sleeping Bear Dune Lakeshore". Winning ArtPrize, the world's largest international art competition, Ann's quilt took first place, beating out thousands of pieces of art in every genre imaginable. Ann's quilt is the first art quilt to win in Artprize.
ArtPrize is a 19-day international art competition, open to any artist and decided by public vote. For nearly three weeks, three square miles of downtown Grand Rapids, Michigan become an open playing field. Art from around the world pops up in every inch of downtown, and it's all free and open to the pubic. It is so epic that Time Magazine called ArtPrize one of "Five Festive Events You Won't Want to Miss in 2013."
The top prize, which is decided by public vote, is $200,000. Additionally, a panel of international arts professionals decides a $100,000 Grand Juried Prize. All prizes combined total $560,000, creating the world's largest art competition.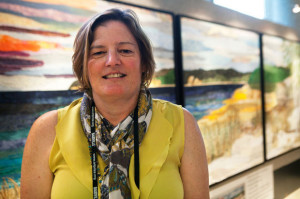 This is the first year an art quilt has won the top prize. And "Sleeping Bear Dune Lakeshore" is a quilt like no other. Made of four panels, Ann's quilt measures 20 feet long. She estimates it took her 400 hours to recreate the scene using only a photo, no patterns, no tracing paper. Beginning with 30 yards of fusible web and 75 yards of fabric, Ann pieced the quilt using raw edge fusible applique collage. "I like the raw edges. I think it adds to the artistic part of it."
The visitors of ArtPrize agree. Each visitor has a chance to vote for one piece of art to be the winner. Ann's piece was up against a wide array of artwork mediums such as photography, acrylics, pastels and sculptures. It competed against all genre's including, abstract, fantasy, and folk art.
But this wasn't the first time Ann, a resident of Frankfort, Michigan, had entered ArtPrize. She had entered twice before, last year making it into the top 25 with her art quilt entitled "Seasons".
"I put myself out there and pushed myself to do something really big," said Loveless about this year's entry. "I told myself if I could be in the Top 25, I could make it to the Top 10."
More than 49,000 people cast 446,850 votes over 16 days, divided into two rounds of voting, to pick "Sleeping Bear Dune Lakeshore" its favorite among 1,524 works of art in ArtPrize 2013.
Winning what is possibly the largest cash award ever to be won by a quilt, Ann hopes her quilt helps raise art quilts to a higher standing in the art world.
Ann is no stranger to art competitions. She has been making art quilts for the past ten years, selling them at art fairs and in her art gallery, State of the Art Framing and Gallery, in Beulah, Michigan. Before opening the gallery, Ann worked as a seamstress but had to stop after developing arthritis. She found that a long-arm quilting machine took the pressure off of her arthritis, and so she switched to quilting full-time. Some of Ann's latest quilts are for sale and can be seen at http://quiltsbyann.com. Ann also teaches the very technique she used in her award-winning quilt, fusible applique' collage.
A requirement of ArtPrize is that the winning piece of art becomes a part of the ArtPrize collection. Ann admitted it is hard not to bring the quilt home with her. "It pulls at my heart strings. But I think of it like a child moving out of the house. It has to spread its wings and go. It will be enjoyed in other places."
When asked about the secret to her success, Ann says it is that she enters her quilts, not just in quilt shows, but in art shows.
"Quilters often stay in the quilt world", Ann says. She believes this is why people ask her if she invented this technique of quilting. She tells them no, the techniques are well-established in the quilt world, but she adds her own twist on them.
"The public doesn't know about art quilts," Ann says.  She believes as more quilts are entered in art competitions like ArtPrize, the genre will grow and be appreciated by a wider audience.