If you're attending the Quilt Expo in Madison, Wisconsin on September 5-7, we've got a list of exhibits and events you don't want to miss.
Sept. 5-7
Exhibition Hall at the Alliant Energy Center
Madison, Wis.
wiquiltexpo.com
Special Quilt Exhibits
Quilt Expo offers hundreds of quilts on exhibit including several special exhibits on loan from local and national groups. Their generosity and dedication to quilting allows attendees to see these wonderful works of art.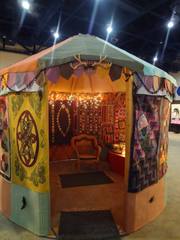 Quilted Yurt
Wisconsin Museum of Quilts and Fiber Arts
Linzi Upton of Scotland first envisioned creating a quilted yurt for the Loch Lomond Quilt Show in 2010. She used shot cottons in earthy colors, with accents of gold lame and tweeds. In order to complete the panels for the 18-foot-diameter yurt in time for the show, Linzi reached out to longarm quilters across the world for help in creating and quilting the panels.
Former Wisconsin Museum of Quilts and Fiber Arts (WMQFA) President Terri Kirchner was one of the quilters who stepped up to help. Upon completion of the project, Terri and Linzi collaborated to create a smaller quilted yurt for the WMQFA. The yurt arrived in 2011 and has been on display at our museum as well as national quilt shows in Houston and Chicago.
Now you can step inside this beautiful exhibit at Quilt Expo!
Step into the WMQFA Quilted Yurt at Quilt Expo!
Quilt Expo attendees enjoy a special quilt exhibit.
Also view these special exhibits at Quilt Expo:
Natalie Sewell Legacy Exhibit