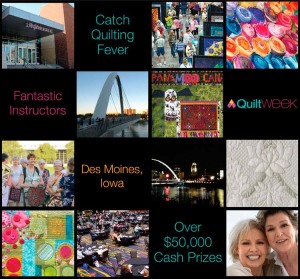 Registration is Open for AQS Members Onl Registration for classes at AQS QuiltWeek™ – Des Moines, Iowa 2013 is open.

Registration for the general public will open on June 19, 2013.

Selecting Classes is Easy

Members will have received an email with instructions on how to register early, so check your email.
Classes at AQS QuiltWeek – Des Moines, Iowa Will Fill Quickly

The 2013 faculty this year includes
24 of the most impressive quilting instructors in a single event. Quilters will be waiting in line to reserve a spot with the best in quilting.
Charlotte Angotti
JoAnn Belling
Elaine Brelsford
Lisa Bongean
Bonnie Browning
Pam Curo
Martha DeLeonardis
Myrna Ficken
Rita Fishel
Klaudeen Hansen
Ann Hazelwood
Deb Karasik
Jan Krentz
Chris Lynn Kirsch
Angela Lawrence
Teri Lucas
Linda M Poole
Catherine Redford
Weeks Ringle
Anita Grossman Solomon
Sally Terry
Donna Lynn Thomas
Barb Vlack
Mary Lou Weidman