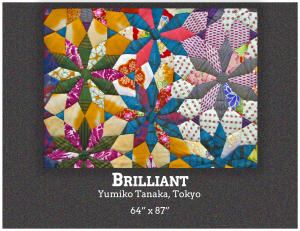 If you've been waiting for registration to open on the AQS Grand Rapids Quilt Show 2013, wait no more!

Registration for classes at 

AQS QuiltWeek

 in Grand Rapids, MI is now open.

They are expecting record crowds this year, so don't delay.Act NOW to secure your spot before classes are full.

Selecting Classes is Easy

Classes at AQS QuiltWeek in Grand Rapids Will Fill Quickly

The 2013 faculty for AQS QuiltWeek in Grand Rapids includes
20 of the most impressive quilting instructors in a single event.

Quilters will be waiting in line to reserve a spot with the best in quilting.
Reserve your seats now to learn from the best.
Bonnie Browning
Elaine Brelsord
Susan K. Cleveland
Linda Carlson
Karen Combs
Rita Fishel
Jacquie Gering
Linda J. Hahn
Klaudeen Hansen
Moya Hu
Linda K. Johnson
Bill Kerr
Katie Pasquini Masopust
Judy Coates Perez
Michele Scott
Mary Sorensen
Karen K. Stone
David M. Taylor
Jane K. Wells
Judy Woodworth