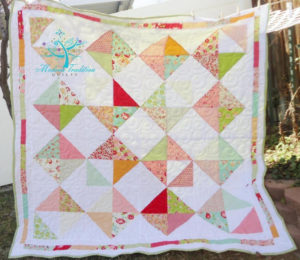 What is a fabric Layer Cake?
Layer Cakes are collections of 10″ x 10″ squares of fabric. The phrase "layer cake" is used widely by Moda. Other fabric manufacturers have similar packs of 10″ inch squares but they may be called different names. They are similar to a charm pack but a larger size. Layer Cakes are available by collection and typically include 42 pieces of fabric, though the number may vary.
Layer cakes arrived on the scene after Charm Packs became popular. The patterns you make from 5″ squares can also be used for 10″ squares in the Layer Cakes.
Here are some patterns written especially for using Layer Cakes. However, as always, if you do not have a pack of 10″ squares, you can always cut them from your own stash.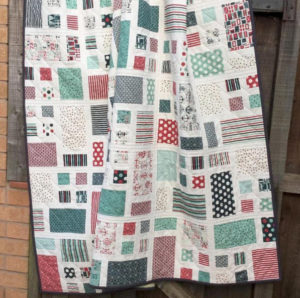 Disappearing Nine-Patch Quilt with Layer Cakes
Diamond Jubilee Layer Cake Quilt
Summer Popsicle Layer Cake Quilt
Ohio Starburst Layer Cake Quilt
Lemonade Lollipop Layer Cake Quilt
The Right Path Layer Cake Quilt
Around the Block Layer Cake Quilt
Color in Motion Layer Cake Quilt
Happy Quilting,

P.S. If you purchase a pattern from the links above, I may receive a small commission. Thank you for contributing to my fabric stash fund!