Hexagon quilts are hot hot hot! New patterns and styles go way beyond Grandmother's Flower Garden. The design possibilities are endless.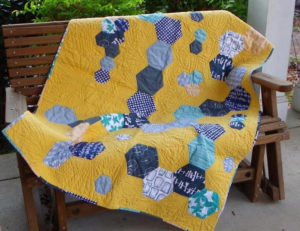 Hexagons started showing up in quilts in the early 1800s. Simple single-unit quilts were often the how hex's were assembled, often by hand. Since then, hexagons have gone through an evolution. Hexagons can be used as a simple unit, or pieced out of many other pieces to create the hexagon. They can be put into a quilt by hand piecing, machine piecing, or English paper piecing.
You can now find whole books full of just hexagon quilts.  I've discovered these patterns easily available with the internet: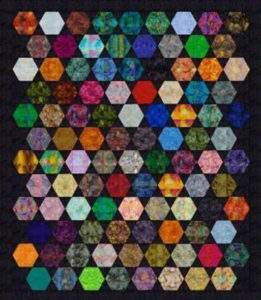 Hex Plus Quilt
Flowers and Stars Hexagon Quilt
Hexie Alphabet Paper Pieced Patterns
Big Bold Baby Hexagons Modern Quilt
Happy Quilting,

P.S. If you purchase a pattern from one of the links above, I may receive a small commission. Thank you for contributing to my fabric stash fund.