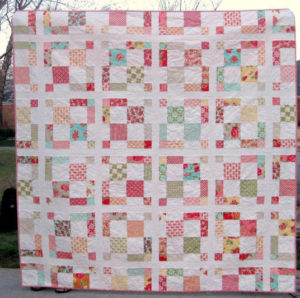 Charm packs are all the rage. When they were new, I remember seeing jelly rolls first. Then came the charm packs.  Before charm packs, many of us were making charm quilts, which meant something a little different than it does now. A charm quilt used to mean a quilt in which every piece was a different fabric, no two repeated.  Charm clubs would exchange 5-inch squares so that they  share and collect enough fabrics for their quilts. Since you were only going to cut one piece from it, you didn't need very much. Five inches would do.
Since pre-cuts came out, charm packs have included 5-inch squares of several coordinating fabrics from the same line by the same designer. They are still the 5 inches, just as the groups used to swap, but there are some repeats in the packs.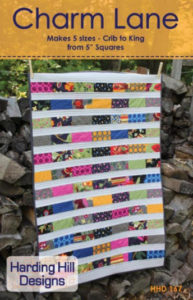 Because all fabrics come from one line, they usually make a stunning quilt. I love to use pre-cuts when I don't have time to spend on choosing fabrics.
Here are some fabulous patterns that perfect for using your charm pack.
Star Cluster Charm Pack Pattern
Happy Quilting,

P.S.  If you purchase a pattern from the links above, I may receive a small commission. Thank you for contributing to my fabric stash fund!