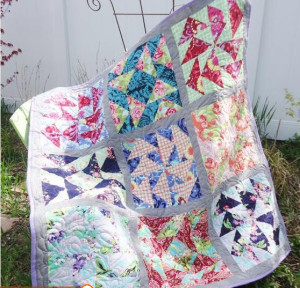 One of my favorite impulse items when shopping in a quilt shop is to pick up Fat Quarters. They are easy to pick up and are inexpensive. They are a fun way to pick up fabrics even when you don't know yet what you will do with them. I ma a big believer in acquiring a good collection of fat quarter fabrics. If I keep a large assortment on hand, I find it saves me time when I am inspired and ready to begin a new project. Rather than dreaming up a quilt, then going to find just the right fabrics, having a healthy number of fat quarters means I can brainstorm and create without having to stop to go buy fabric.
Fat quarters also cause me to exercise my creativity. Since several fat quarters are needed for a decent sized quilt, it means I will need to mix and match many more colors. This always makes for a far more interesting quilt than I originally planned.
And now there are patterns and books designed by starting with fat quarters. Here are some patterns that will allow you to take advantage of that great stash you are collecting. And some of these are FREE!
Flowers in the Garden Fat Quarter Quilt
Fast Fat-Quarter Quilts (Make It Martingale)
Fat-Quarter Quickies
Take 5 Fat Quarters: 15 Easy Quilt Patterns
Happy Quilting,

P.S. If you purchase patterns from the links above, I do receive a small commission.  Thank you for adding to my fabric stash fund!