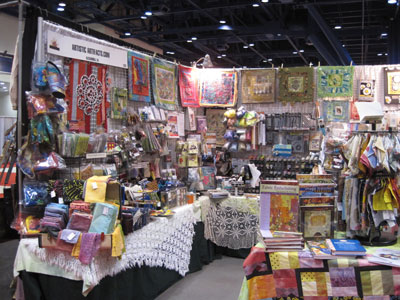 I was recently reading posts at the http://QuiltingBoard.com and found a discussion about what to take to a quilt show.
Last year I went to my first big quilt show in Grand Rapids. I planned pretty well as far as what to bring, but there were a few things I was missing. You want to pack light when going to a quilt show because you're going to be walking around all day, especially the large shows. But there are some necessities that you should have with you.
The list the ladies on the QuiltingBoard.com shared was a great one.
Water bottle carrier
Backpack for all your goodies
Small wallet size purse with strap
Comfy walking shoes
Digital camera
Fully charged battery for your camera
Lots of cash
Spare credit card just in case
Self addressed sticky address labels for give-aways,
Power bar/granola bar/snickers
List of things I want to buy
This last one is a great idea. I did not have a list of things I wanted to buy when I went to the AQS Grand Rapids show. As I was skipping from one booth to another, it was easy to get overwhelmed. So much good stuff I wanted! Where to begin?
If I had brought a list of the items I knew I wanted to look for, it would have kept me on track as I moved through what must have been over 100 vendor booths.
Next time I'll know better.
Do you have anything to add to the list?