September 10-13, 2014
QuiltWeek Hours
Wed.–Fri., 9:00am – 6:00pm
Sat., 9:00am – 5:00pm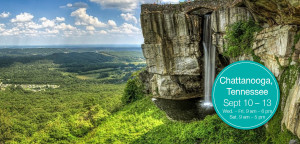 Chattanooga Convention Center
1150 Carter St
Chattanooga, TN 37401
The Chattanooga Quilt Show is just around the corner.  If you're going, here is some of the information you will need to know.
Lodging
To book a room for the Chattanooga Quilt Show, go to this link.  This service books rooms in dozens of hotels in the Chattanooga area, and you will get a discounted rate especially for quilters if you use this service to book your room.
Tickets Can be Purchased at the Show
Daily Admission
Members $11/ Retail $14
2-Day Admission
Members $20/ Retail $25
Multi-Day Admission
Members $25/Retail $35
Directions to the Show
There is a handy tool for you to use for directions and a map to get to the show.  For directions to the show, go to the AQS Chattanooga page and click the Directions tab.  You will then enter your location, and will be given directions from your location to the quilt show.
For your convenience, download a map of downtown Chattanooga here.
Chattanooga Special Exhibits
Don't miss these special exhibits while at the show.  There is a lot of variety and you will find something for everyone!
Modern Quilt Challenge
Caohagan Exhibit 22 quilts
SAQA Masters II Exhibit
Stitch Like an Egyptian
New Quilts from an Old Favorite – Carolina Lily / National Quilt Museum
Pilgrim/Roy Challenge 2015
Quilted In Honor
Badass Quilters Exhibit
Cow Stampede
Melody Johnson
AQS Authors' Exhibit
Happy Quilting,

P.S.  For any other questions about the show, go to AQS Quilt Week Chattanooga.