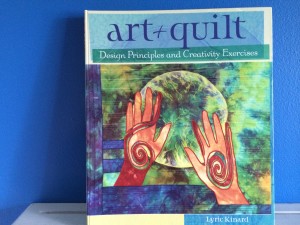 Later this month I will be attending AQS Quilt Week in Grand Rapids. One of the classes I will be taking is "Art +Quilt: The Elements of Art for Quilters" by Lyric Kinard. I am super excited because a while back I bought her book "Art+Quilt" and love it! I can't wait to meet Lyric at the event. and have her autograph the book for me. I also wanted to share this book with you.
"Art + Quilt", book by Lyric Kinard – Design Principles and Creativity Exercises
I bought the book when I first got interested in art quilts. This book is one of the most beautiful books I have on my shelf of quilt books. It is hardcover, 9 inch by 11 inches in size with 136 pages. The binding is spiral bound. I find this to be a big plus as you can lay it flat on a table and refer to it without having to continually find the page you're working from. The images used in the book are beautiful and perfectly illustrate the concepts in the book. There are many images of sample works to get you moving in the right direction on the exercises.
Who is this book for?
Art + Quilt is for the semi-experienced or experienced quilter who would like to start experimenting with art quilt concepts. It is also for the art quilter who would like a further understanding of classic art concepts, all of which are directly applicable to quilting.
This is not a book for someone who is just learning to sew and quilt. Knowledge and experience in basic quilt construction is needed to work through many of the exercises.
What's inside?
"Art + Quilt" is arranged in chapters that cover different art concepts. I have never had formal art classes, so, for me, this book is a good primer on concepts such as principles of design, creative composition, texture, shape, line, color and value. This is not a book you read once, then put on the shelf. I won't be working on the exercises from the beginning of the book to the end. Instead I will be skipping around and working on concepts I am most interested in right now. This is a book that is meant to be absorbed slowly and one I will be referring to over and over again when dreaming and designing a quilt.
The book is arranged with explanations of concepts, followed by small exercises in relationship to each concept. By first reading, then experimenting with the exercises, you will have a much better working understanding of the concepts outlined. The exercises are easy and straight forward, some involving a sketch book, some involving fabric and actual quilting small pieces.
How Much Time Do I Need to Work Through the Book?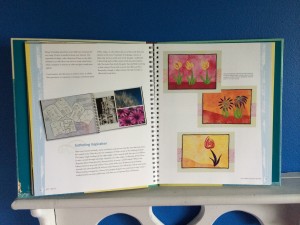 The only complaint I have about "Art + Quilt" is not really a complaint about the book. It is that I will need a lot of time to work through the exercises in a meaningful way. But that's not such a bad thing. I intend to take the time to do the exercises more than once if I feel I need more work with a concept.
The sections on color is one I'm looking forward to most. These exercises I will likely work through several times. Color is one of the concepts I have been working on this year, trying to get more sophisticated in how I choose colors. With this book, I have a lot of material here to work with. (No pun intended!)
The links on this page will take you to Lyic Kinard's website where you can purchase the book. Look on the right-hand side of the page for order information.  What's really cool is, if you enter your name in the field when buying, it looks like Lyric will sign the book to you!
Happy Quilting,

P.S. If you attend the Grand Rapids Quilt Week Show, and you see me, PLEASE stop me and say Hi!! I'd love to see what you think of the show and, most importantly, if you've purchased any really good quilting stuff!