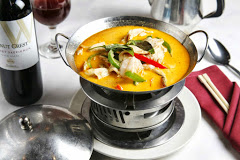 The Grand Rapids Quilt Show is fast approaching. If you are looking to spend more money on fabric, and less money on food, I have great news for you! My office is in downtown Grand Rapids. So this show is literally two blocks from where I work every day! Because I am in the heart of downtown Grand Rapids, I can give you the inside scoop on where to get great meals. These are the places I am going to take my Mom during the show because I know we can get good food at an affordable price.
All of the restaurants on this list are 1, 2, or 3 blocks from the DeVos Center where the show is being held.
To get to any of these restaurants, you can obtain directions from the information booth at the DeVos Center, or download this map from the Experience Grand Rapids website to print and bring with you.
BREAKFAST
For breakfast, we are going to head to Panera for bagels, danishes, and coffee. Panera is one block away so we won't have to get up too early to get our breakfast.
SunDance Grill – 151 Ottawa Avenue
Or we may go to SunDance Grill. They serve hearty breakfasts if you're looking for a full breakfast. They are one block from the quilt show. They also serve good lunches and dinners.
LUNCH
For lunch, last year the DeVos Center had a lunch area that served several types of good food choices. It was nice to not leave the venue during the day, and instead eat in the venue and get back to the expo floor! If we want another option, these are the restaurants nearby that have fast counter service, and seating in the restaurant.
Donk's Mexican Joint – Monroe Avenue
If we do decide to venture out for lunch, we may eat at Donk's Mexican Joint. It's not fancy, but I can tell you the food is very good for an affordable price. It is also directly across Monroe Avenue, so it's one of the closest places to pick up a quick lunch.
Freshli – Ottawa Avenue in the McKay Tower
The other choice for lunch is Freshli. This is a fast lunch place that offers healthy choices such as salads, wraps, soups, etc. This is a favorite of the downtown lunch crowd looking for something good and healthy to eat that won't take long.
Parsely Mediterranean Grill – Monroe Center
Another healthy choice is just two blocks from the venue. Parsley's is a good Mediterranean restaurant serving all of the usual favorites. They usually have a lunch special that is a hearty lunch for a special price. Don't forget to order some hummus!
DINNER
There are several choices that we might choose for lunch or dinner that are nice, sit-down restaurants that won't gouge your budget. These are all of my favorites and I haven't decided yet which ones to take Mom to:
Three blocks from the venue, and worth the five-minute walk. XO offers excellent Chines and Thai food, plus Sushi. The dinners are large and very affordable. The service is excellent. Ask for Cindy and tell her Deborah sent you.
Two blocks from the quilt show, this Mexican restaurant has excellent service, good food, and large portions. They also have outdoor seating which is lovely on this quieter street.
Just two blocks from the venue, if you're looking for a nice Italian lunch or dinner, Big O's is for you. All of the pastas are wonderful. They also have really good pizza and everything you would expect from an Italian restaurant. The restaurant has a cozy charm, located below street level. So look for the sign and look for the stairway down to the restaurant.
When I'm in Z's I feel like Norm from Cheers is going to walk through the door at any minute. This is a favorite spot for many quilters because it is so close to both the Amway and the J.W. Marriot. Located right between the two, it is one block from the quilt show. Mom liked this one a lot last year. Portion are good sized. They are known for their ribs but they have many other good old American dishes as well.
DESSERT
You probably are familiar with TGI Fridays. What Mom and I did last year was walk over to get a liquour ice cream dessert. They are decadent and a nice way to unwind after a long day at the show. My feet needed to rest, and the ice cream desserts are wonderful.
Kilwin's Ice Cream – Monroe Center
Kilwin's is known for their Mackinac Island Fudge, Caramel Corn, Caramel Apples and Kilwins Original Ice-Cream! If you've got a sweet tooth that needs to be satisfied, Kilwin's is the place for you.