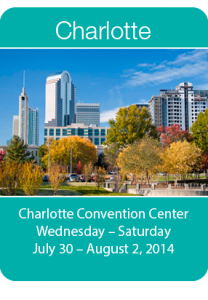 If you're planning on attending the AQS Quilt week in Charlotte, North Carolina, we've got some information for you  that you will need to know.
Parking It looks like they have found several areas to choose from for parking. For a list of parking available and rates, go to this parking page.
Lodging If you haven't booked your lodging yet, you should know that the quilters blocks of rooms for a special price are all filled.  But be sure to call the hotels suggested on this lodging page to see if they have had cancellations or if you can still get a room at their regular rates.
Directions You can get to the show by car, taxi, rail, or bus.  To find out details on all of these modes of transportation and directions to the show, go to the Quilt Show Transportation page.
Special Exhibits You Don't Want To Miss
SAQS Masters II is the newest fiber art show from Studio Art Quilt Associates. The 37 quilt artists included in the exhibition have proven themselves to be masters of this exciting art form and hail from all over the globe. The artworks encompass a broad range of fiber art techniques and styles, from realistic to abstract. It's a provocative and stimulating museum-like experience.
The Modern Quilt Challenge is the traveling exhibit that stemmed from the AQS Modern Quilt Challenge in 2013.The challenge was dedicated to the modern quilt movement and included many quilts that broke the traditional rules with new approaches to fabric combinations, piecing, construction methods, and motif quilting.
Stitch Like an Egyptian AQS, in the spirit of celebration of extraordinary works of fiber art, presents the Stitch Like an Egyptian exhibit to AQS QuiltWeek events visitors. Visitors are amazed at the quality, workmanship, and artistic vision that these pieces of appliqué art convey. So pack your bags and don't forget to come back and tell us all about it!