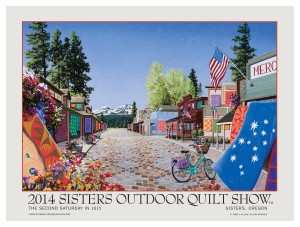 The 39th Annual Sisters Oregon Quilt Show is fast approaching. Scheduled for July 12, 2014, the show will feature many exciting events and special exhibits. Here is some information you will need if you go.
Show Time:
Saturday, July 12, 2014
9 am – 4 pm 
Cost to Attend:
It's free! Your donation helps make it happen.
Parking:
You can park just about anywhere in town.  Parking on the shoulder of Hwy 20, east of Sisters is not permitted.  All of the downtown streets are open to street parking. Please don't block alleys or driveways. There is a shuttle from the high school that runs all day long. Just follow the signs for "Shuttle Parking" when you get to town.
Disabled Parking is designated in the parking lot at the Sisters Elementary School and the parking lot between City Hall and Sisters School Administration building.  The lots are on the east and west side of Locust St. on the east end of Sisters. 
Traffic:
Pack your patience! Getting 12,000 people in and out of Sisters does cause some traffic back ups.
Cascade Ave will be closed to east/west traffic on Quilt Show Day beginning around 6:00 am.  All the north/south cross streets will be open to traffic and parking.  Through traffic will be routed around town on Locust St. and Barclay Drive until 5 pm.  Ample parking is available on all city streets.  Parking is NOT permitted on Hwy 20 east of Sisters.  For a map of the traffic route and more detailed traffic information click here.
Wheelchairs
Wheelchairs are allowed, but unfortunately there are no vendors who rents them in town.
Lodging:
It is recommended that you contact the Sisters Chamber of Commerce to check for available lodging.  To order a Sisters Oregon Guide clickhere.  You may also check the following websites for possible accommodations in the Central Oregon area.
Central Oregon Visitors Association
Visit Bend
Bend Chamber of Commerce
Redmond Chamber of Commerce
The official lodging partner, Black Butte Ranch is a short drive from downtown Sisters and offers wonderful accommodations and amenities.
Photographs Allowed
They only ask that you not use photographs for any commercial purpose.
Sunday Events:
The Town will be holding many events during the time of the quilt show.
If you can't see everything in one day, there are some special exhibits that will be open on Sunday. Find out more about Sunday exhibits and other local attractions: http://sistersoutdoorquiltshow.org/events.htm#stay