As quilters we focus a lot of time on choosing our quilt tops. But then comes the time to choose a quilt back. Often we haven't given it much thought. But there are lots of decisions to make when it comes to the back of your quilts.
Color and Pattern
There is a wide variety of choices available to you when it comes to quilt backing. It's usually not too difficult to find a matching fabric that you like and think will complement the quilt top. I, myself, like to choose a busy printed fabric because I hand quilt most of my quilts, and the stitching on the back, for me, does not look as good as the stitching on the front. With a busy pattern, the stitches will not be readily visible on first glance.
Using Extra-Wide Fabric
The easiest way to back a quilt is to use a backing fabric that is over 108 inches wide, as opposed to the traditional fabric width of 45 inches. This way you do not have to piece to panels together to cover the back of your quilt. As long as your quilt is not over 108 inches wide, then this type of fabric will work. Amazon.com offers a many choices of wide backing fabric for quilters you can see here. 
Piecing 45-Inch Fabric
If you choose to go with a fabric that is 45 inches wide, then you will need to piece two panels together to cover the back of your quilt. You will want to make sure the seam between the two panels falls in the center of your quilt on the back. The seam usually is centered vertically. However, my philosophy of quilting is that there are no rules that can't be broken. If you feel the seam should be placed horizontally on the back, that will work too.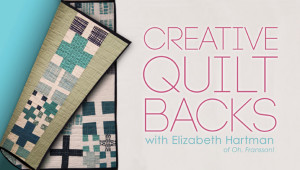 Pieced Quilt Backs
A popular trend in quilting is to add piecing to your quilt backing. This often gives a little surprise to viewers as they discover, not only your beautiful quilt, but a little something extra on the back. Craftsy offers a FREE video quilt class called "Creative Quilt Backs", teaching several ways to incorporate more creativity into your quilt back. I was happy to find this series of videos, and they are really well done. I'm excited to try out some of the techniques shown. There are six videos and I've only gotten through the first three and I'm excited about what I'm seeing!
If you sign up for the free videos, here is what you'll learn:
– Simple calculations for planning your quilt back and determining fabric quantities
– Piecing together large-scale prints for dramatic effect
– Using a pieced strip to break up negative space
– Floating a block with the help of a scaled drawing
– Using your design wall to build a patchwork back with scraps from your stash
What fabric and technique will you use for your next quilt backing?

PS: Signing up for Craftsy is free and the class is free.
(If you sign up, I do receive a small commission when you use my affiliate link. Thank you, in advance, for contributing to my fabric stash money!)