By Deborah Richmond
Call me lazy, but I love to order things online, especially quilting supplies.  When the UPS man arrives, it feels like someone has sent me a present, and it's Exactly What I Want!
Craftsy offers many fabric bundles and packs.  I just ordered two Benartex 5″ Fossil Fern Charm Packs.  
I also ordered a FREE pattern " Daisy Baby" that I am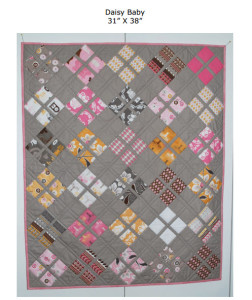 going to make with the charm packs! I downloaded the pattern to my computer and saved it in a folder I call "Craftsy Patterns" so I will know where it is when the fabrics arrive.
Craftsy is becoming one of my favorite websites because they have such cool quilt videos, kits and fabrics. And that's not even mentioning all of the other categories that I haven't dipped into yet, like knitting, embroidery, art, photography, paper crafts.  If you haven't signed up for a free account, you should do so right away and take a look at the goodies they have, especially the sale items! (Full disclosure, I do get a small commission when you sign up or purchase from Craftsy.)
Sincerely,


P.S. If your organization has an upcoming quilt show, be sure to tell us about it so we can promote it for you on Quilt Show News!