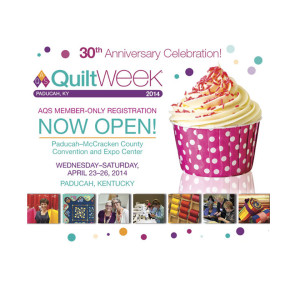 It's just around the corner!  If you're attending the American Quilters Society Quilt Week 2014 in Paducah, here are some key pieces of information you will need when you arrive:
AQS QuiltWeek®
Paducah, Kentucky 2014 April 23 – 26
General Registration is now open! Make your arrangements now to see all the exciting events and beautiful quilts on display at this year's show. Workshop information is available online now under the'Workshops Tab' on the AQS website.
When you purchase your ticket online, you will be able to head straight for the Admission Gate at QuiltWeek without standing in line to purchase your ticket.
Single General Admission tickets are available on the AQS website until April 13, 2014. Any tickets purchased on or before April 9, 2014, will be mailed to you. Tickets purchased after April 9, 2014, will be held at Will Call located at the Workshop Desk at the front entrance of the show.
Single day admission tickets for AQS QuiltWeek® — Paducah, KY 2014 can be purchased in any quantity. Each ticket is valid for one day's admission to the show for one person. For example, if you have a group of 10 attending for one day, order 10 tickets.
If you will be attending more than one day of this show and want to buy a multiple-day ticket for one individual at a reduced price, please click HERE to go to the correct place to order.  
Bring Your Printed Ticket
Be sure to store your printed ticket in a safe place and bring it with you to the show. If you forget or misplace your ticket, you will need to purchase another at the show.
For Lodging information and reservations contact the Paducah McCracken County Visitors' Bureau at 1-800-PADUCAH or go to their website at www.paducah.travel/quilting.