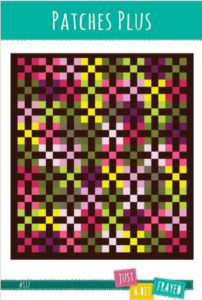 As far as quilting blocks go, you can't get more simple than a basic nine patch.  A nine-patch block is 9 squares sewed in rows of three to form the square block.  Nine-patches are great for beginners. They are also handy when you need a quick quilt for a gift. And, of course, they are wonderful for using up scraps!
This week I am looking for my next quilt to make using scraps, so I'm looking at lots of nine-patches. A few of these I shared in a previous posts, but I included them in case you missed them the first time.
Is That a Nine Patch? Quilt Pattern
Nine-Patch Quilt by Donna Westerkamp
Nine-Patch Extravaganza

P.S. If you purchase a pattern from these links, I might receive a small commission. Thank you for contributing to my fabric stash fund!