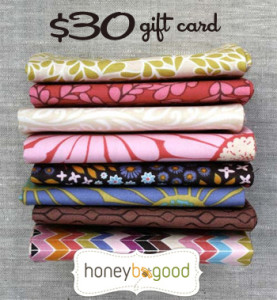 Quilt Show News is happy to announce its April Give-Away!! You can be entered to win the HoneyBeGood.com $30 Gift Certificate simply by visiting http://honeybegood.com and telling us your favorite item in their shop. Leave your response in the comments below and you will be entered to win! HoneyBeGood is dedicated to promoting beautiful and affordable organic and sustainable fabric for the quilting and sewing arts.
Quilters who comment before midnight Eastern time on April 27th will be entered to win. We do not ship prizes internationally, so this contest is open to United States quilters only.
Good Luck!
AND Congratulations to Jill Shafer from Harrisburg, Pennsylvania. Jill won last month's give-away!