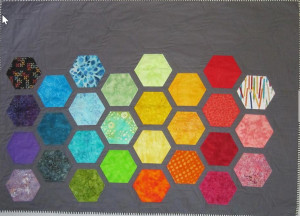 I made my first hexagon quilt many years ago.  I love the one-block quilts, and this one was perfect for hand piecing.  I am a big fan of hand piecing, but even if you are not, you can machine piece hexie quilts just as well.
Hexagon quilts are all the rage right now.  Everything old is new again! Take a look at these hexagon patterns. There is something for everyone!
Flowers and Stars Hexagon Quilt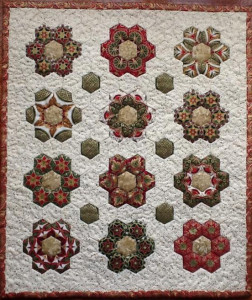 Those Charming Hexagons Quilt
Hexie Alphabet Paper Pieced Patterns
Big Bold Baby Hexagons Modern Quilt
Hexagon Table Centerpiece Pattern
Happy Quilting,

P.S. If you purchase a pattern from one of the links above, I may receive a small commission. Thank you for contributing to my fabric stash fund.